Back

Index
Forward

Other useful information
Timaru and Surrounding Lakes
There are several lakes worth sailing on in the South Island. Facilities are pretty good with BBQ areas and campgrounds, and there is often plenty of wind especially in the equinox from September through to April. Winter is a time for getting out your snow skis, jumping on your bike or heading to warmer climates

Dial-a-forecast: 0900 999 25 / 0900 499 12


Info Centre: 14 George St, Timaru. Ph 03 688 6163

Local Contact: Todd Risman, 81A Morgans Rd. Ph 03 686 1255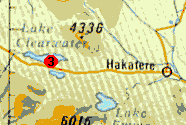 Access: Right in the centre of Timaru by the Yacht Club. Drive out on the pier (1 km long) Sand beach, ramp. Best at high tide.
Suits: Slalom/wavesailing/longboarding. Beginners/Advanced.
Wind/ S = strong wind and flat water. NW = strong wind and chop.
Water: NE/N = waves up to 2 metres
Watch: Southerlies will carry you out to sea.


Access: 1 hour from Timaru. Toilets and camp ground at the lake. Best place to sail is at Waitangi Bay - sail across.
Suits: Slalom. Beginners...
Wind: NW, SE, funnels through, increasing by the afternoon.
Water: Flat - large lake swell.
Watch: Out for the yachties, especially when they are racing.
In Detail: Another hydropower lake, popular with coastal sailors for reliable afternoon sea breezes.Camping on northern lake shore at Te Akatarawa and Waitangi. Services at Tekapo, Ruataniwha motor camp and Basil Lodge recommended.

Access: Drive to Mt Somers. 1.5 x 1 km wide lake with toilets, campground, plenty of parking and grass rigging areas. Accessable only in summer - go ice skating here in winter.
Suits: Slalom, speed. Beginners...
Wind: NW = light in morning and increasing to 40 knots in afternoon. SE, E good also.
Water: Flat (at top end) - chop.
Watch: A lot of sailboats. The bird sanctuary; read the signs.
In Detail: The name says it all! Your sails come sparkling like they did the day you walked out the shop. This lake is about 2.5 hours drive south-west of Christchurch, the last 20km are on un-sealed road. Considerably smaller and shallower than lake Coleridge, the water is warmer even though both these lakes are snow feed. The lake is only about a kilometer across at most, and about 2-3km long. There are some restrictions on sailing sites, as the lake is also the breeding/nesting ground of the rare crested grebe (a nearly extinct native of Australia). No motorised craft or craft over 1000 (something like that) kg are allowed on the lake, they are restricted to nearby lake Howard. Relative to Ryton bay there is quit a bit more here, a lot of batches, and fishermen's huts, it's very popular with trout fishermen. There is a small camping ground right on the lake shore, and public toilets also. A personal account of sailing at Lake Clearwater is also available.
Similar to Coleridge, being located in another valley, it works best in a westerly. I've heard it said that if you park side on to the wind you can't open your door on the windward side. Short sharp swells develop when it blows hard, resulting in good chop jumping. It also gets the easterly but usually not till about mid afternoon, and only at about 10kts. All in all it's a really nice spot, usually a few local from Ashburton or Methen can be found there, but it's a long way to go from Christchurch.

...more information

Top

Back

Index
Forward

Other useful information